Domna Samiou

Her Work

The Association
Domna Samiou Sings Songs of Nature and of Love
Contents
This videotaped stage performance, held at the Odeon of Herodes Atticus on 11th of October 2005, includes songs and rituals related to the cycle of the agricultural year, rewarding human labour and telling of man's relationship to nature.
Songs
1. The dawn of dawn

Crete

2. Little white bird a-sitting

Macedonia

3. River, dry gorge

Central Greece

4. I went up high on Olympus

Thessaly

5. Into the vineyard

Central Greece

6. My broad-leaved vine

Peloponnese

7. Do ta pres kotside te

Central Greece

8. Fragrant little lemon

Central Greece

9. Winter and autumn

Central Greece

10. Come out, my sun, come out

Peloponnese

11. Ploughed garden of mine

Central Greece

12. January violet

Sporades

13. Last night in the starlight

Epirus

14. Beam, dear moon

Peloponnese

15. Forty five lemon trees

Macedonia

16. Call

17. High on that mountain

Macedonia

18. Come out, dear mother-in-low

Macedonia

19. Wrapped up warm in kisses

Macedonia

20. Hasapiá

Macedonia

21. Vangelítsa

Macedonia

22. Improvisation on the bowed tambourá

23. My curly basil

Asia Minor

24. River, dear river of mine

Eastern Aegean

24. All the birds, two by two

Peloponnese

25. The maid climbed up to the summer pasture

Pontus

26. Sérra

Pontus

27. Kótsari

Pontus

27. A partridge I did tame

Dodecanese

28. What did I do to you, my sun

Eastern Aegean

29. Hitzaíri

Central Greece

30. Moiná Nená

Central Greece

31. Lepeniótiko Kangéli

Central Greece

32. Saint John

Thrace

33. Asia Minor Kledon

34. We have a wedding today

Eastern Aegean

35. Red apple of mine

Macedonia
Notes
Almost all these 'love songs' are linked to Nature and its beauty.
In days gone by, Man worshipped Nature. Then we lost touch with the environment; we became greedy, and Nature came to be seen as an obstacle. And the result is destruction: forest fires, floods, erosion, climate change and other ecological disasters.
I wanted to share a set of songs, therefore, which could remind us of how people used to love Nature and respect their environment as the most beautiful of all God's creations: from 'the moon that beams till morn' to 'the orchard strewn with daisies'; from 'the lean, tall cypress' to 'the riotous colours of a field of wild flowers'; and - for those closest to our hearts – from 'my plumed partridge', 'curly basil of mine' or 'my blooming violet' (for her) to 'an eagle' or 'mountain torrent' (for him). I collected these songs from all over Greece. They span almost every occasion and every season. My admiration for those folk – our people – from whom the songs come, knows no bounds.
Domna (2005)
---
Though steering an adaptive course, taking on new forms that often provoke older generations, these customs have never drifted away from their primary objective: the harmonization of the magic cycles of growth and physical toil. The unbroken link between Man and Nature is expressed in an enormously varied body of blessings, practices and artistic creations. The customary rites and rituals, matched to the corresponding songs, reveal the multiple meanings of the interaction between the tangible and the intangible world in pursuit of 'the good'.
Popular wisdom expressed though myths, legends and traditions guides contemporary initiates towards performing them anew.
Beginning with autumn, which marks the start of the working – and ecclesiastical – year, a journey through Greece becomes a conceptual meander through time and space as we listen to the songs linked to the customs in question. But such a journey will reveal more than musical traditions; contemporary traditions of worship will also come to light which we believed long-since extinct or forgotten.
From September and the customs associated with this stage in the agricultural cycle (the polysporia1, the astrologisma2 and the roditi3), we move on to the customs linked to the grape harvest and performed to this day in line with the social dictates of the cycle of agricultural toil, even in urban areas like the Attic hinterland. Next in the yearly cycle we come to the winter fertility rituals which culminate in twelve days in which Man goes about in the guise of beasts, and, in parts of Northern Greece, in wedding reconstructions.
The second phase of the year, spring, is dedicated to the rebirth of nature and hosts a deluge of country festivals. Ritualistic customs like the helidonismata4 seek to ensure a good crop by magical means, proclaiming the coming of the 'Sower' and the new light. Lenten and Easter customs, dual manifestations of the harmonic link between ecclesiastical and popular rituals of rebirth, soothe the people s metaphysical unease with the balm of symbolism.
The Lenten balloons of Kalamata5, allegorical travellers of the reborn light, initiate us into the renewal of life,while Megara's May Day customs connect the rebirth of Nature and of Man. Nature risen from the dead and illustrated in condensed form in the victory wreathes of May, is harmonized with the victory of the light in the celebrations of the summer solstice.
The light-worshipping customs of Saint John of Kledon, the celebratory summer displays which form an epilogue to the magic cycle of the agricultural year, complete our journey through the popular fertility rituals/blessings of Greece. The rites and songs can thus, as means of expressing and passing on popular wisdom, remind the old of – and initiate the young into – the mysteries of the traditional 'natural' world we share.
'Songs, by marrying words and melody, provide an unmatched measure by which parallels may be drawn between Man and Nature' *.
Zoe N. Margari (2005)
---
1Customs associated with the consumption of foodstuffs containing seeds (as bearers of life).
2Star-gazing as a method of divination.
3Divination by means of a pomegranate. The fruit is rolled or broken depending on locality, and the results interpreted.
4In which children go from door to door holding wooden swallows on sticks and singing festive songs.
5Miniature paper airships (balloons) made and launched by children.
---
(*) Loukatos Dimitrios. 1977. An Introduction to Greek Folklore. Athens: National Bank of Greece Cultural Foundation.
Multimedia
Videos
All the Birds, Two by Two
Concert "Domna Samiou Sings Songs of Nature and of Love", Odeon of Herodes Atticus, 2005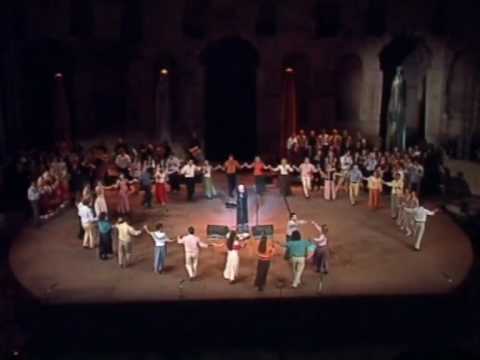 My Broad-leaved Vine - Do ta Pres Kotside te
Concert "Domna Samiou Sings Songs of Nature and of Love", Odeon of Herodes Atticus, 2005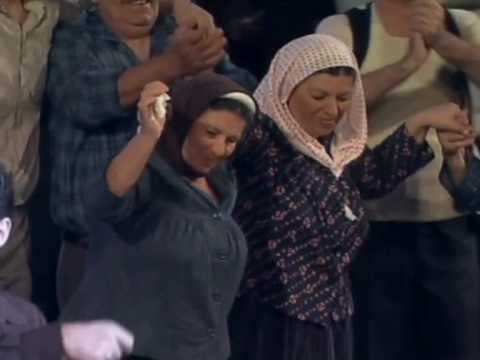 My Curly Basil
Concert "Domna Samiou Sings Songs of Nature and of Love", Odeon of Herodes Atticus, 2005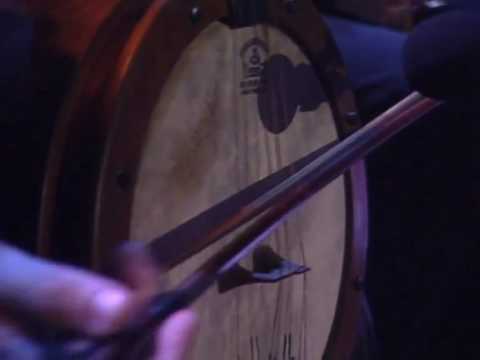 River, dear river of mine (2005)
Concert "Domna Samiou Sings Songs of Nature and of Love", Odeon of Herodes Atticus, 2005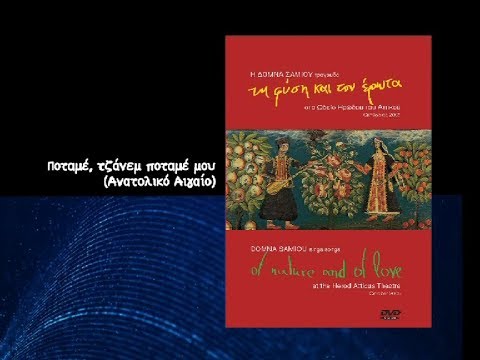 Winter and autumn
Concert "Domna Samiou Sings Songs of Nature and of Love", Odeon of Herodes Atticus, 2005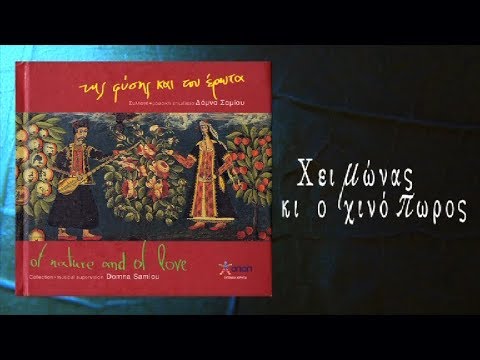 Credits
Singers
Musicians
Dancers
Production team
Booklet team
Member Comments
0 Comments
Post a comment
See also
Song
A partridge I did tame, through April 'til May came, the tamer she became, the more she did complain. All afire deep inside...
Song
Close to daybreak, dawn's crack in the East, the Morning Star aloft, first light near at hand. The sun was a- telling, 'dau...
Song
Forty five lemon trees. Forty five lemon trees rooted in the sand, their leaves grow green, their lemons juicy. Only my le...
Song
If I had an orchard, an orchard studded with bitter oranges. Studded with bitter oranges, bitter oranges all covered in bl...
Song
Necrolatric Dance of Spring
It is May month, the spring is here and soon it will be summer, but now the deer are pleasuring and finding spring content. ...
Song
Hey little lemon tree, short little lemon tree from Vissàni, heavy with fruit, I didn't see you last night and now I'm sick...
Song
Maria's gone to pick some lilac, a nightingale is singing, she goes to gather lilac blossom in vineyards and in paddocks. A...
Song
May's come, May's come and spring, summer's come when the perfumed roses bloom. I've a white rose I want to dye and if I...
Song
May's come, May's come and spring, summer's come when the perfumed roses bloom. I've a white rose I want to dye and if I...
Song
On my way - oh aman, gel aman - On my way to the mountains of Prussa,1 I found a cool brook bubbling. I bent down to take ...
Song
The maid climbed up to the summer pasture, my little bird, to become a shepherdess, come, come I say! to become a shepherde...
Song
The partridge built her nest amàn amàn, high up upon the rose-bush And the startled partridge started, and the roses to th...
Song
Whoever saw a tree of green, with eyes of black and a blond sheen and royal blue leaves to boot, eyes black, eyebrows dark...