Domna Samiou

Her Work

The Association
Of Nature and of Love
Contents
Through these songs, Domna Samiou pays tribute to how man, in years gone by, worshipped nature as the measure of ultimate beauty, order and harmony, and treated it with awe rather than with the destructive fury of today. The down-to-earth love of nature in these folk songs doesn't derive from any form of romantic nostalgia; it lies instead in a pure experience of everyday life.
(barcode: 5204910000920)
Production: Domna Samiou Greek Folk Music Association
Year of release: 2006
Type: CD
Sponsors: OPAP S.A.
Notes
In days gone by, Man worshipped Nature. Then we lost touch with the environment; we became greedy, and Nature came to be seen as an obstacle. And the result is destruction: forest fires, floods, erosion, climate change and other ecological disasters.
I wanted to share a set of songs, therefore, which could remind us of how people used to love Nature and respect their environment as the most beautiful of all God's creations: from 'the moon that beams till morn' to 'the orchard strewn with daisies'; from 'the lean, tall cypress' to 'the riotous colours of a field of wild flowers'; and –for those closest to our hearts– from 'my plumed partridge', 'curly basil of mine' or 'my blooming violet' (for her) to 'an eagle' or 'mountain torrent' (for him).
I collected these songs from all over Greece. They span almost every occasion and every season. My admiration for those folk –our people– from whom the songs come, knows no bounds.
Domna Samiou (2006)
---
Folk songs' down-to-earth love of nature has a different starting point, a different mode of expression and different content. The feel for nature is strong and vital in traditional rural societies, but more importantly, it is also more profound and more real than any romantic nostalgia. An unforced and often admirable expression of real experiences, it stems from everyday life lived amidst untrammelled nature. That this love of nature is born of life, and stands a million miles apart from romanticism, is especially clear in the kléphtika (brigands' songs) of mainland Greece, and in the shepherds' songs of Crete and other islands. But it is clear, too, in so much else; in the root causes, for instance, of the mountain dwellers' dislike and even contempt for the morbidity of life on the plains so familiar from folk songs.
Romantic love
The Greek people have created numerous myths and traditions relating to romantic love and the full gamut of emotions that accompany it. Popular love poetry has ancient roots, for it is surely impossible to conceive of its absence once a people is present.
The first modern popular love poetry appeared during the final centuries of the Byzantine empire; in the rhymed popular novels of Byzantium, whose plots centre on love, and whose short songs (katalόgia) display all the features of the later style with which folk songs have familiarized us.
These love songs are as numerous as they are fine, and embrace subjects centring on beauty and love's incandescent passion, on dialogues and short stories of love. This wide-ranging content corresponds to the mass of different (and often contradictory) emotions coursing through the lovers' hearts, and is often expressed with an admirably epigrammatic brevity and elegance.
Many of these songs of love have a number of verses, though most consist of just a few. There is also a seeming infinitude of two-line works, which form a sub-category of their own and are known by different names in different places: lianotràgouda, manédes, kotsàkia, mantinàdes and patinàdes which, like the paraklausίthyra of the ancients, are sung by youths beneath the window of their heart's desire.
Since the majority of popular love songs are danced (though not the two-liners), they display a range of metres that extends well beyond the fifteen-syllable line.
What should be stressed and sought out, especially by the young, who are bombarded by models of song that fail to engage their emotions or their souls, is the interest these songs provoke in a contemporary social setting –not as museum exhibits of interest only to historians, but as a living art form, as the substance of our being set in motion, as national oneness– and the invitation they extend to us to evaluate their poetic content, to savour them as poetry, to feel their vibrations in our soul. To take joy from the presence of Eros, sometimes peaceful and tranquil, sometimes turbulent and disruptive, and to accept the songs' freshness, the plastic grace so perfectly at one with the Mediterranean landscape. To understand that they are part of us, a part of our spiritual, cultural and national roots.
Yiorgos E. Papadakis (2006)
Multimedia
Videos
O Black Dawn, Won't you Break
From the recording of the album "Of Nature and of Love", 2005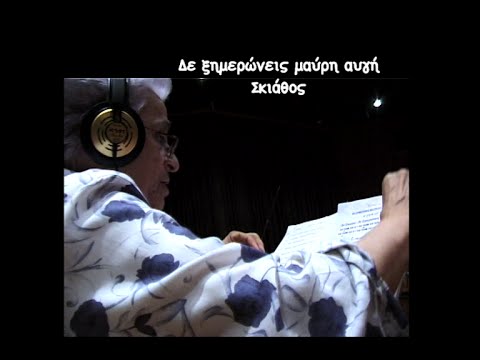 River, dear river of mine (2005)
Concert "Domna Samiou Sings Songs of Nature and of Love", Odeon of Herodes Atticus, 2005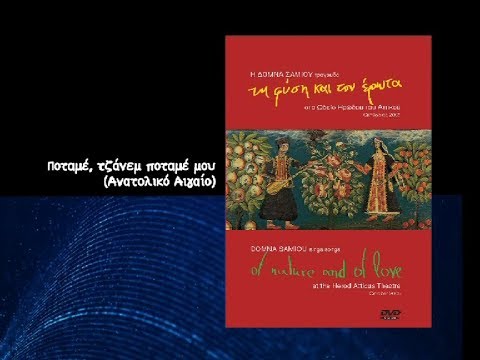 Credits
Production team
Sound team
Yiorgos Karyotis

(Sound engineer)

,

Yiorgos Karyotis

(Sound editing)

,

Petros Siakavellas

(Sound editing)

,
Socrates Sinopoulos

(Sound editing)
Booklet team
Yiorgos Ε. Papadakis

(Texts and commentaries)

,
Michael Eleftheriou

(English translation)

,

Mary Stathopoulou

(Text Editing)

,

Konstantina Ananidi

(Design and layout)

,

Christina Katsichti

(Design and layout)

,

Marina Orfanidou

(Design and layout)

,

Thomas Papanikolaou

(Design and layout)
Singer
Choir
Clarinet
Flute
Gaida (bagpipe)
Tsambouna
Pontic bagpipe
Violin
Constantinopolitan lyra
Pontic lyra
Dodecanesian lyra
Small tambouras
Bowed tambouras
Constantinopolitan lute
Santur
Lute
Daouli (davul)
Goblet drum
Bendir (frame drum)
Tambourine
Informant (source of the song)
Member Comments
0 Comments
Post a comment
See also
Song
A partridge I did tame, through April 'til May came, the tamer she became, the more she did complain. All afire deep inside...
Song
All the birds, amàn amàn, the birds nest two by two, all the birds two by two, the swallow with his mate. The lonesome ni...
Song
– Come on beam, dear moon, shine, moon dear, and light the way to my love. Beam high and low, for it's muddy and wet; beam...
Song
If I had an orchard, an orchard studded with bitter oranges. Studded with bitter oranges, bitter oranges all covered in bl...
Song
In a fine orchard, laurel and myrtle quarrel. And myrtle, amàn-amàn, myrtle says to laurel… And myrtle says to laurel, -You...
Song
Necrolatric Dance of Spring
It is May month, the spring is here and soon it will be summer, but now the deer are pleasuring and finding spring content. ...
Song
Hey little lemon tree, short little lemon tree from Vissàni, heavy with fruit, I didn't see you last night and now I'm sick...
Song
There sits my little white bird, my fair white bird, sitting on a green branch. A white bird sitting on a green branch gro...
Song
Maria's gone to pick some lilac, a nightingale is singing, she goes to gather lilac blossom in vineyards and in paddocks. A...
Song
May is come and bids me reap but for his sake I shall not go and darken in the sun. May, dear May with the flowers and s...
Song
O April, April cool and fresh, dear George, a worthy scholar, May month so finely decked with flowers, dear George, so finel...
Song
Orchard, my orchard, orchard ploughed all pruned and daisy-strewed. You've flower beds all around, and marjoram in the gro...
Song
River, dear river of mine, river, my river, when you fill. River, my river, when you fill and crash, and crash and swell. ...
Song
The partridge built her nest amàn amàn, high up upon the rose-bush And the startled partridge started, and the roses to th...